IAS's system to increase your organization's profits
The efficiency of any company is an indicator of the quality of its work and thus its profits "If it is a profit organization," where the efficiency of the organization can be measured by dividing (the estimated and ideal value of the work done) by (the cost of operating the organization "salaries, wages, operating expenses, and depreciation") during the same measurement period, and the (lower value) points to the worst efficiency while the number (1) point to the ideal "often inaccessible" efficiency.
The organization of work and customer access to services they want and ensuring their right to easy and equitable service is one of the factors that help increase the efficiency of the company.
Therefore, professional queue management systems are designed that, in addition to their many features, adjust queue and control service access times fairly, which leads to the workflow being flowed smoothly and this raises the efficiency of the rate of work completed, which is reflected positively on the profits.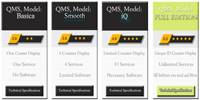 WHICH QUEUE MANAGEMENT SYSTEM DO I CHOOSE?
Q-Linker, while studying the statistical reports, discovered a gap represented by the time of the customer's response and arrival to the place of performing the service, which leads to the loss of at least 15 seconds, and this time is considered large when the waiting area is crowded.
Q-Linker engineers worked to solve this problem and designed software based on a sophisticated algorithm that they called an Interactive announcement system (IAS).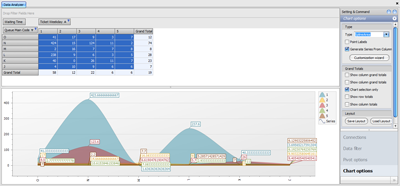 Related article: IMPORTANCE OF Q-LINKER DATA ANALYSIS.
This software monitors and executes the queuing system data and calculates the appropriate announcement format and announcement duration.
We made statistics by studying the segments of several companies, and it was found that the companies used queuing systems supported by the developed IAS system, which have a congestion rate of up to 150% that have successfully delivered 18% more services than those that do not use IAS-supported systems over the same time and measurement conditions, which raised the efficiency of the companies that were tested and owned by the IAS system at 3-7.4% ratios, this percentage appears directly on the profits positively.

A special article for Q-Linker Smart Solutions
If you are a design engineer, contractor, supervisor of hotel-related projects then these products interest you: Service Plates & Room Numbers - Crystal Glass Touch Keys
COST OF USING QMS
TRANSFER UNIT
DISTRIBUTION THE SOUND MEDIA OF QUEUING SYSTEM



---
IAS
IAS system to increase your organization
Interactive announcement system