Q-LINKER ANTI-HALT
Q-LINKER ANTI-HALT:
Innovative modern software developed by Q-Linker, how does it work?
The worst thing that happens to any software system is to collapse or stop suddenly, and perhaps the most affected by this problem is queue management systems because stopping these systems may cause chaos and cause confusing problems.

How does the Q-Linker Anti-Halt software work?
We monitored thousands of device downtime and noticed that when hardware, operating system, and software were intact, most of the unwanted software downtime occurs when system resources are occupied at close to 100%.
Some malware stays static within the system monitors its movements and once you notice an increase in the consumption of system resources until it is active and suddenly consumes a large part of what makes the system unable to accomplish its tasks or even cancel it (due to the busyness of the system resources which causes a complete paralysis condition) that often leads to the system stalling for a while It may require rebooting the system, causing important files to be lost.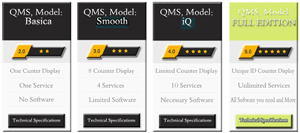 WHICH QUEUE MANAGEMENT SYSTEM DO I CHOOSE?
Q-Linker Anti-Halt software reserves a small portion of system resources and keeps them frozen.
The software during this time continuously monitors system resources and when you notice a high system busy index to an unsafe rate, it immediately launches 50% of the part it seized from the system resources and then searches for any unimportant tasks and delays their implementation pending the completion of some system tasks and becomes able to execute the tasks Entrusted to him without risks and this software may cancel one or several tasks and if it is unable to cancel a task due to the total preoccupation of the system's resources, it releases the remaining 50% of the percentage that it seized, which allows it to complete the task successfully.

This software has been tested and it is noticed that it provided a significant improvement in the rate of software work.







---