STANDARDS TO BE MET BY QUEUE MANAGEMENT SYSTEMS FOR TELECOM COMPANIES, BANKS and COMPANONIES

Justin Guang
PhD. in Information and
Communication Sciences
In general, queue management systems are an important part of corporate management tools, which requires that these systems meet certain standards, However, these standards become more stringent in telecommunications companies and banks, as the information they provide is an important factor in decision-making, Today, we will talk about the most important criteria that must be met by these systems in order to reach the ideal use.
Queue management systems are no longer just a means of organizing clients to get the service, Although this seems to be its main mission, it constitutes only a minute part of the benefits that can be got, Whoever looks at these systems notices that they are managed by only three or four programs, while the number of programs complementing their tasks may exceed ten of them:
SUPERVISION SOFTWARE, DATA ANALYSIS SOFTWARE, SIMULATION SOFTWARE and CMS SUPERVISION SOFTWARE.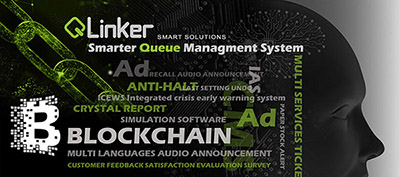 Maybe you will like this product: NEWEST SMARTER QUEUING MANAGEMENT WITH CUSTOMER FEEDBACK SATISFACTION EVALUATION SURVEY
Queue management systems provide a huge of data that allows management to evaluate the performance of its employees and service centers, the quality of services implemented, the percent of customers dissatisfaction, and more.
One of Chinese company announced the inclusion in its software package of an Integrated Crisis Early Warning System ICEWS, This is an advantage that, is important, as it helps avoid the recurrence of these crises in the future.
Other companies have added the Customer Satisfaction Survey system to their software, which gives companies that use these programs the ability to measure their customers' satisfaction with them, their services, and the performance of their employees, which helps raise the level of their services and constitutes an incentive for their employees to improve their performance and avoid customer dissatisfaction.
The most important criteria that must be met by role management systems:
1- Should be stable and designed to run smoothly when a large number of clients flow.
2- Can keep maintaining its databases and processes in the event of a forced stop for any reason.
3- Decentralized Storage that keeps data safety of in the event of disasters.
4- Use standard databases so that data can be used easily and smoothly.
5- Advanced data analysis software to create graphs that express data.
6- Have Central Management System programs.
7- Have Simulation software to help the management reach the ideal form.
8- Preferable to have an appropriate encryption rate to ensure that the data is not tampered with.
9- Correct and understandable notifications, (Digital Signages, Audio Announcements, and Ads), as poor understanding of the notifications lead to the client's non-response or delay in responding, which impedes workflow and wastes time.
10- Digital Signage is sufficient, which ensures quickly and smoothly that the customer reaches the place where the service is provided.
11- A high value of MTTF and MTBF, which are respectively "MEAN TIME TO FAILURE" and "MEAN TIME TO REPAIR", and that the MEAN TIME BETWEEN FAILURES MTTR is as a minimum.
12- Flexibility to combine luxury and relaxation when there are a small number of customers and the required speed when the number of customers becomes large.
13- Moderate use costs and consumables are available and easy to obtain.
15- Made by a reputable and long-established international company, "in order to ensure that it possesses sufficient knowledge and experience, in order to ensure that it possesses sufficient knowledge and experience, in addition to possessing the solvency and economic strength that allows it to withstand the event of crises, which reduces the possibility of its collapse because the collapse of the company often leads to the cessation of support for its products and thus the loss of data, knowing that The importance of data is cumulative, the more it is, the more accurate it becomes.
If the previous standards were available and those who used them excelled and made good use of them and extracted reports, they would constitute an important source of assistance in decision-making.
---
IntegratedCrisisEarlyWarningSystem
ICEWS
QueueDataAnalysisSoftware
QueueSimulatorsoftware
MTTF
MTBF
MTTR